When we (WaterlooBikes and TriTAG) talked about a Winter Cycling booth at Winterloo 2015 no one expected the record setting temperatures. Both  days (Feb 14 & 15) had windchill temperatures in the -35C to -41C range.
The goal of the booth was to promote winter cycling, trying to normalize it by allowing people to try out winterized bikes (studded tires, a fat bike, a cargo bike with studded tires and a few others).  A secondary goal was to highlight the council vote on protected bike lanes on King Street which could come late March or early April 2015.
Thanks to everyone who helped out in the frigid temperatures, stopped by for a chat and had the gumption to try out a winterized bicycle!
Media coverage:
It's not that cold …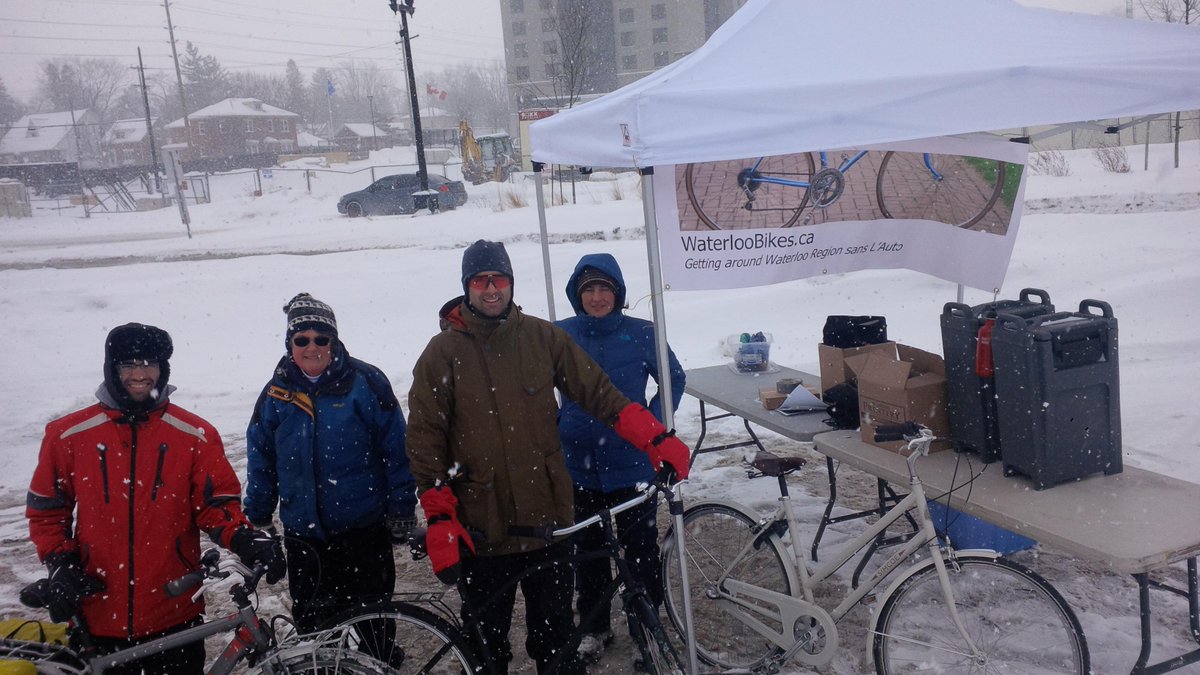 Cargo bike demo rides.
Winter cyclist Chris Harrison with his patented cross-country ski rack stopped by on his way to Westmount Golf course. Note the lack of exposed skin and thermal duct tape on the toes.
One of many squalls that passed through our booth :)
Councilor Diane Freeman's fat bike was a hit. This auxillary officer turned too sharply, he was ok though he wasn't wearing a helmet.
We checked out the dog sled rides, always the stars of Winterloo.
Did I mention folks loved the fat bike?
Anne Crowe, newly minted Chair of the Waterloo Active Transportation Advisory Committee (WACAT), testing out the fat bike.We were all eager to see how the fat bike compared to studded tires.
Narayan warming up taking the bakfiets for a spin.
Not sure who loved the bakfiets more – the parents or the kids riding in the front :)